Let's start with the self-realization that we are not yet at the stage of growth and learning. We still have moments of fear. Those generally rotate around what we can't control and the anger we have for the destruction of our economy and the financial viability of the small and medium business community that we serve.
We have easily transitioned to working from home.
We are NOT virtual CFOs but we certainly have the technology and tools in place to support it.
Here's what we've learned from our experience so far:
1. Video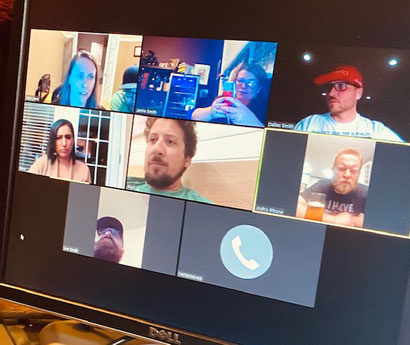 It has its place when you can't have face-to-face conversations.
We use Microsoft Teams because it's secure and part of our MS package.
 2. Cash-flow
We've known cash-flow was one of the challenges businesses face and that's why we have always focused on it. A Finance Leader can forecast and manage cash-flow. Technology, process and policy can get cash-flow in control.
3. Cash-flow part 2
Cash-flow challenges have been amplified. No client is immune. Keeping up on expenses when revenue is largely shut down or severely decreased is challenging and unexpected. Collecting from others in the same boat is not easy. A Finance Leader has to be strategic with business partners, vendors, clients, banks and others during this crisis. They have to communicate with the executives and operators and make tough decisions with them.
4. Patience
So much is out of our control, that once we get the work done and get the reports and forecasts and insights into the right hands, we often have to be patient. And that is really tough. Not having clarity on government programs also requires patience. Not knowing when this ends or what the other side will look like takes an incredible amount of patience too.
5. Culture
It's hard to even worry about culture right now but we need to preserve it and also foster it. It's the people that we need more than the government relief and the debt. To run our successful businesses of the future we need stronger cultures than ever. Online socials or happy hours work well. Acts of kindness including small gifts and acts of service are meaningful. Practicing gratitude is key.
6. Pivot
Strategic plans need revisiting. This is driven partially because of the need to reallocate resources. Resources to pay back our deferred rent and amounts owed. Resources to keep up on our negotiated payment terms. Resources to ramp back up and get back to the strategic and scalable cost structures that we collapsed.
7. Strategic dig-in & core competence
Our pivots are more than a reaction to our financial situation. We need to dig in on our core competencies at this time. We need to match those to the new economy and new market. How will our consumers behave in this new world? Will they have economic constraints that we need new offerings to align with? Will they have health and safety fears that we need to adapt to? Will they be more inclined to work from home? Or will they value connection and thrive in community more than ever? What are we really good at that matches the answers to these questions? How can we focus and leverage those strengths?
8. Gratitude
The only thing that can make you feel better when you stop and close your eyes and take a breath is gratitude. Focus on what you have as a person and as a team. There's some shining lights in there if you take the time to acknowledge them. Be loud in your thankfulness.
9. Selfishness of giving back
If you do have some extra time because of this slower pace the most selfish thing you can do to help you feel better is to give back. Spending time helping others will give you the connection you are lacking and something that you can be grateful for. You can also be something that someone else is grateful for.
10. Resilience
Those of us that make it through this will be stronger than ever. A client said to us: "We love you. We'll get through this, and we'll be even better than before. As far as Amplify goes, you will be heralded for the work you guys did as a team to steer your clients through this disaster... if I had a chance to hire a firm similar to yours that never survived a crisis or one that had, I'm taking that experience every time. Even if you have some casualties, I want to go into a fight with someone who has been in one before every time. Even if they didn't win. It's powerful."
We are grateful for the support, the knowledge and the experience.
Our new normal - working from home, home schooling and keeping up our home
while we all learn new skills that benefit the family and the community
#TeamFamily