We are thrilled to bring on some long over-do, non-accounting, business expertise to our team!! 
Tyler Nicholetts joins Amplify Advisors as our Business Development and Sales Manager and will be focused on our local Calgary market and community. He will be assisting us with our market awareness, relationships and sharing our client experience.
Tyler's initial and primary focus is on our Finance Leader services. He will work with small and medium businesses to help them understand what a Chief Financial Officer / Controller can do to amplify their growth. He will help us get to know great growing businesses that can benefit from an executive level business partner. He will also work to strengthen Amplify's relationships, market awareness and client experience in our Finance Leader service line which offers fractional CFO services to small and medium business. 
We are thrilled for Tyler's business leadership in executing on this strategy. Tyler brings to Amplify a wide variety of experiences in business development, sales, general business, leadership and connecting. We could tell from the first meeting with him that he had integrity and that he was honest, adaptable and respectful. Throughout our interview process it became clear that we would be honoured to have him show up and perform as an Amplifier. 
Tyler has worked in industries such as healthcare, energy, software, consumer package goods, hospitality, manufacturing, retail, agriculture, food processing, education, commercial building and property management, transportation and logistics. Just like our clients, he has a wide range of industry experience and we are confident that will be a great fit.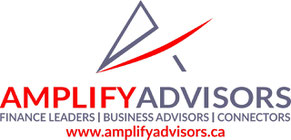 Tyler has a background in sports and continues to prioritize his son's teams and his own wellness.  I've already heard Jesse and Tyler bond over stories from the ice and how their leadership opportunities through sports have helped contribute to their growth and who they are today!!  
Tyler is also a Calgary Stampede courtesy car committee volunteer and this is one example of how he is dedicated to community involvement. He has a growth mindset and has a number of professional development and educational experiences, including a diploma in Business and Marketing from Confederation College in Thunder Bay, Ontario. 
Tyler shares Amplify's values (courage, curiosity, candor, communication and collaboration).
We know he will work hard with us to lead a team that is entrepreneurial and dedicated to an amplifying client experience.  
We are excited to be challenged by him too.
We know he'll have the courage to call us out when we are acting like accountants.  
We anticipate he'll have curiosity to confront us when we seem to approach a challenge with too much focus on numbers.  
We can't wait to hear his candor in all of these exchanges. We are focused on growth and are not typical CPAs and having leaders like Tyler on the team helps hold us all accountable to that!  
Amplifying the leaders at Amplify Advisors takes a unique and strong person with shared values. We are thankful we found Tyler as he has these important characteristics. Tyler, along with our full team of leaders, want to be part of an epic team and want to communicate and collaborate with us, our clients, and the market. 
Our team (https://www.amplifyadvisors.ca/blog/team/) of Finance Leaders, Business Advisors and Connectors is the reason we get the opportunity to meet people like Tyler. It is only because of the strength of our team that people like Tyler are willing to join us and stand by our brand. We want to welcome Tyler to that team and thank all those that made this development possible. We could not be prouder or more grateful.