---
---
So it is February 3, 2019. It is a Sunday morning and I receive this email.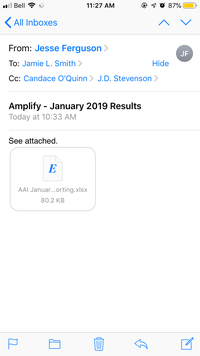 What does this mean?
Well, it means that our January month-end is done.
What do we define as done? Well for this situation and for us that means that the excel report that was circulated has final January month-end and year-to-date results recorded and reported. It has a comparison and variance analysis of Actual results compared to both the monthly and year-to-date budget.
We know where we exceeded our expectations and where we slipped. We know what our gross margin is running at and what our net profit and revenue is at. We know how many projects we had and how many contracts and other engagements. We know how many people we had out.
We know this before the 2nd business day of the month. 
So what?
Information is powerful but only if it helps decision making and amplifies action and results, right?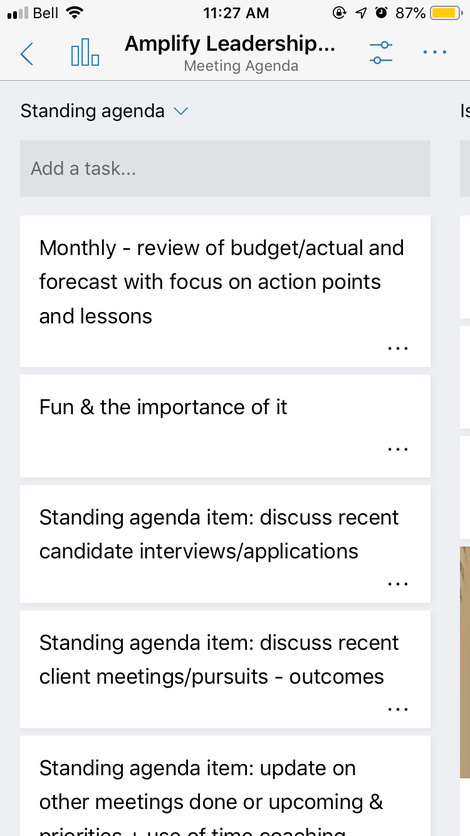 Absolutely true. And at our weekly Tuesday meeting (business day 3 in this case because it will be on February 5th) we will do just that. We will look at this financial reporting and decide if the variances are opportunities - is there a lesson to learn from the variances? Things we did that helped us do better than budget? If so we need to keep doing that! Reasons or mistakes we made that prevented us from achieving the expected results and are showing up as us doing worse than budget? How can we pivot and avoid those mistakes? What actions do we need to take so that we don't see that negative variance in February's results? Have we set reasonable expectations? Has the external market changed? What is our forecast now that we are done this month? Is it the same as the original budget?
Our weekly meeting standing agenda is in the picture to the left. We have 5 standing agenda items we revisit regularly and a number of other agenda items that change weekly based on our objectives and key results.
Now, let's be clear Amplify is run by accountants. We have a relatively simple financial model at this stage. It is not really reasonable to be a small business with this type of financial reporting in just over 1 business day. Nor is it reasonable to be meeting and actioning by business day 3.
Our CFO is amazing and I don't expect him to meet the bar he is setting (Yes, he did have year-end done by business day 10 too, so he might end up setting himself up for unreasonable expectations!).
We generally coach clients to aim for business day 10. Most of Amplify's clients are at business day 10 within a few months of us leading finance. Once we are at business day 10 we raise the bar again but often that requires automation and business process improvements, so it doesn't happen over night.
When you are a start-up, like Amplify, setting it up right the first time is much easier and much more scalable. So the bar can be set higher and it stays high. 
Our clients are not usually run by accountants so we have to invest in financial reporting that speaks their language. Frankly, even accountants struggle with P&Ls and classic financial statements so we work hard right upfront to create dashboards, set KPIs or OCRs (key performance indicators or objectives & key results) and frame the financial picture in a way that resonates. This investment of time is very important. 
At Amplify we face the challenges that our clients face. We use our own processes and technologies as 'experiments' before we launch new services or approaches. We walk in the shoes of our clients and we live up to that and take advantage of it. We learn everyday and we take those lessons to our clients. Our ability to get our financial reporting done this quickly and to have actions planned early next week are examples of what we can help clients with.
When you have a finance leader like we do at Amplify you get what you need. You have a chance to envisage your complete financial picture. You can use the data in ways that assist you in business decisions. You can learn. You can action. You can amplify.