Join us for our event on January 22 at Last Best. 
We will have a lively discussion, a panel, networking and an introduction to Amplify.
Our topic is Book-keeper? Controller? CFO? Trifecta? 
What do I need and when?
---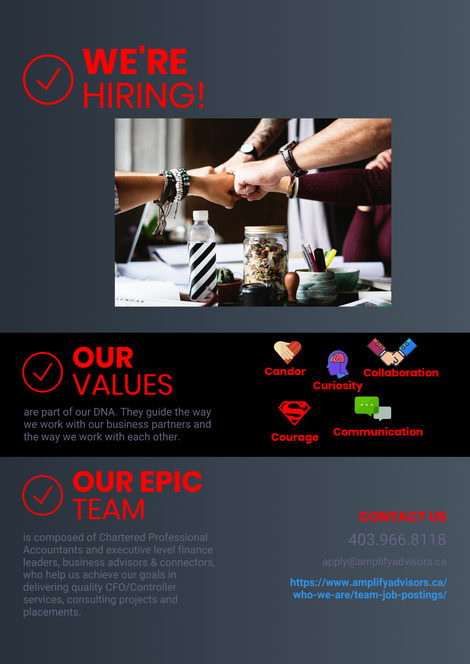 We have a fantastic team. We are growing and looking for great clients, collaborative business affiliates and strong CPAs. 
I just drafted our second quarter report which we send out to the team. We value communication and our report is a candid summary of what we've accomplished over the last three months as well as our goals for the next.
I said to Jesse when I sent the draft to him: "It is good reflection on where we have come and is nice to update and compare to last quarter. So I think it is valuable for you and I too. Need to acknowledge and celebrate some."
And it is true. We reported 5 clients and one to be confirmed in our first summary. This time we are happy to report 10 clients with many to be confirmed.
Our first summary listed 6 team-members active through the quarter and this time we had 8. There are many others supporting ongoing proposals too.
Our first summary and this one had sales revenue growth to report, priorities to work hard on and a reach that included a number of referrals which we are proud of and beyond grateful for.
Our team had a holiday party on January 11. We took advantage of being a start-up and had an intimate gathering with kids and spouses and the team. It was good to say thanks in person.
---
Thank you for taking the time to read our update. There is so much that has happened since we took this leap but hopefully this gives you some colour. Let's connect and discuss more.
---
Sign up to never miss another blog post or update!
---
Follow our social media posts too!
---
Catch up on our blog. We blog. We blog a lot. We discuss business in general, working parents, life and of course Finance Leadership, Business Advisory and Connecting. Read up here.